Yesterday, CoinGate, the cryptocurrency payment processor announced that it now supports XRP payments on over 4,500 stores. These service would allow merchants to sell products or services and receive payments in cryptocurrencies rather than fiat money. If a merchant has a product worth $10 to sell for example, CoinGate will make it possible for users to pay in cryptocurrencies by contacting different exchanges. The payment processor will determine how much the client will have to pay in cryptocurrencies allowing the customer to make the cryptocurrency payment.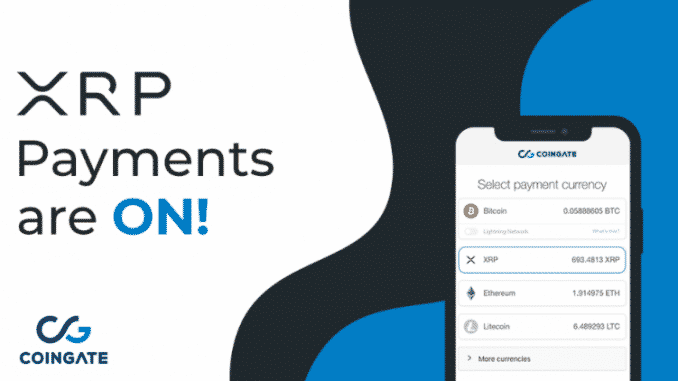 So far, CoinGate provides the service for Bitcoin and 50 other cryptocurrencies. XRP is the latest in the list. If the client chooses Bitcoin as the preferred payment method, CoinGate will provide an option for making the payment through the Bitcoin Lightning Network. The payment processor takes about 1% for providing the service.
The company's customers using this service reportedly have the option of instant settlement in euros, Bitcoin (BTC), Ethereum (ETH) or XRP.
In July 2018, CoinGate launched a pilot program for 100 merchants to test transactions on a Bitcoin Lightning Network version.
Also, news recently broke that Japanese finance giant SBI Holdings outlined the implementation of technologies by Ripple and blockchain consortium R3 as a major part of its strategy to enable a global standard for financial operations, such as international payments and trade finance.
The firm also noted Ripple's potential for cross-border payments.
Do you think XRP will get a boost in adoption because it has been added to the list of CoinGate cryptocurrencies?
Other stories you might find interesting from our blog: