$302 Million transaction by Ripple with a mysterious message
Ripple, the San Francisco Blockchain organization, has completed a major transfer of 1 billion XRP tokens, valued at around $ 302 million. He was sent by one of his escrow wallets to an unknown wallet. In terms of the transaction fee, this cost less than a single penny, which was done as usual in seconds.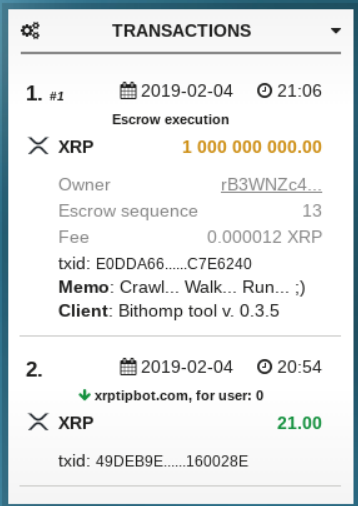 It should be remembered that Ripple itself owns about 60% of the total XRP circulation, and much of it is kept in its escrow account. This transaction itself is not entirely out of the norm, as Ripple is known to regularly sell portions of its stored tokens to institutions, crypto exchanges, and other potential buyers.
This transaction is similar to the one the company has seen in the past. This time, however, it has certainly attracted some attention throughout the community. The memo / reference that accompanied the transfer strangely said "Crawl ... Walk ... Run ...;)". Many have wondered what it could mean, if anything.
As already in the past Ripple sold RIPPLE for the full year 2018 for $ 535.56 million.
This was described in detail in their sales report for the fourth quarter of 2018.
What do you think this message means?